Cybersecurity for the Modern-day Lawyer
Cybersecurity is an ever-present issue in the modern day. Legal technology is fast pacing, and with the arrival of various legal case management software, lawyers are not far behind. Even lawyers and law firms, who follow the traditional approach of pen and paper are in some ways dependent on technology for their communication and research purposes.
As per the ABA Techreport 2019, lawyers and law firms need to spend efforts on developing their online presence, shift to cloud computing, and automate some of their bookkeeping processes if they want to survive in the years to come.
This is the time for every lawyer to upgrade and that's where this post gets down. Dealing with sensitive data daily, cybersecurity for modern day lawyers remains a major deciding factor for every up-gradation plan. Here, we will discuss the importance of cybersecurity for both modern tech-savvy and traditional lawyers, along with giving a few tips to help you work online securely.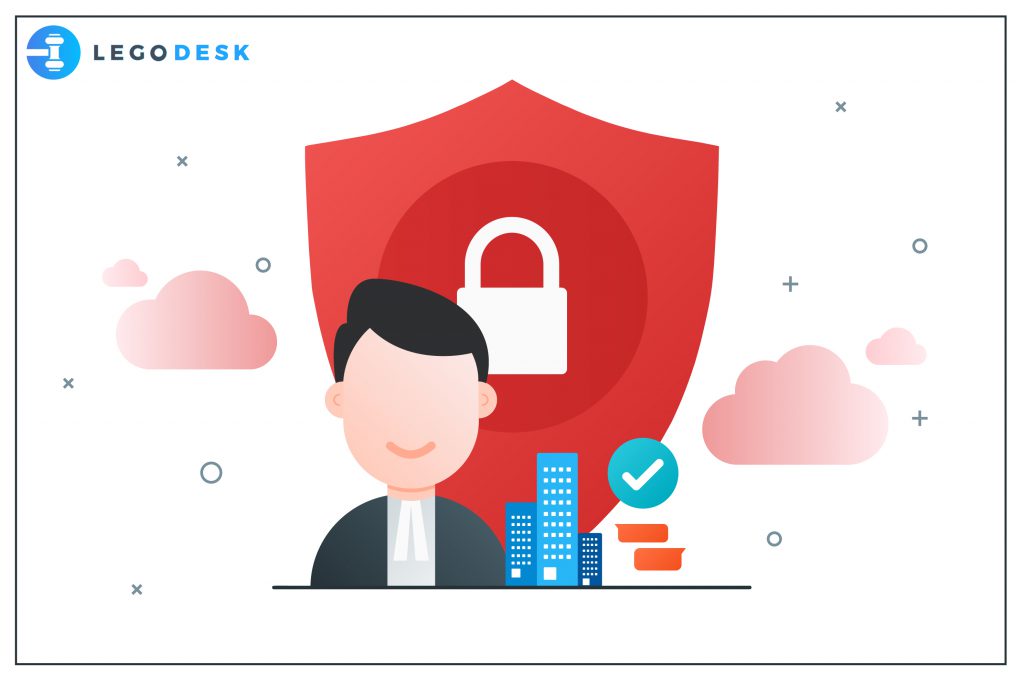 The importance of a strong password:
Honestly speaking, the human brain is not wired to remember the passwords deemed as "strong" by the system. This means, potentially every password is hackable and can be used to access sensitive information. Even the big password that you use contains five capital letters, two special characters, and three random numbers (just saying!!!). The risk is even higher when it comes to lawyers who use 2-3 passwords across every site and device that they use.
So, what can you do? This is where this topic on cybersecurity for lawyers can help!!!
The best way for you to use password managers is to generate totally random strong passwords and allow the program to remember them for your next use. One more way to go about it is activating multi-factor authentication. It is like receiving an OTP on your mobile every time you try to send money from your banking app. Multi-factor authentication ensures that even if someone guesses your password, the ultimate power to allow them access lies with you.
Multi-factor authentication can be anything like a password, a key, or your biometrics such as a thumbprint. Google and Facebook allow a two-factor authentication which means every time you log in from a new device or a new browser, it sends an OTP to your cellphone which is required to enter into the website.
Remember, text messages are also prone to attacks. Given a choice, use app-based codes over text-based codes or rely on biometric verification.
Steps to take for cybersecurity while using a public network or device:
When you are dealing with sensitive client information or handling upcoming case data, it is a strict no-no to use any public network and device. You should only access the internet over your trusted private or office connection. An experienced IT personnel can easily set encryption keys that alert you whenever your internet connection is compromised.
If absolutely necessary to use public devices, make sure to browse in the "incognito mode" and hide your keyboard while entering passwords. If you access public devices regularly, it is advisable to opt for multi-factor authentication.
Communicating through online portals:
To be honest, emails are old school and insecure now. With client portals built into law practice management software (such as Legodesk), lawyers can easily interact with clients without going through the hassle of tracking the mail chain for important points or documents.
Lawyers are bound to be swarmed with sensitive financial and personal legal documents of their clients. And a briefcase or an office cupboard is certainly not secure enough for you to store them.
By using cloud storage, you can access all the relevant documents and your firm's data directly from the device of your choice. With secure passwords and multi-factor authentication, you can allow access to only those whom you trust.
As some additional cybersecurity measure, keep all your apps updated and avoid clicking on fishy ads or installing malware. Install a reputable anti-virus or enable a firewall. Most of the operating systems running your devices prompt error messages whenever they suspect a cybersecurity breach. So, look out for those pop-ups. Remember, your actions define the security of not only you but your clients' data.
Being a 21st-century modern day lawyer means embracing legal technology and using it strategically to ensure your clients are happy. That's why you need the right tools. A legal case management software that utilizes cloud computing can provide you with accessible multi-device tools to access client data, communicate with them, and automate case management on the go.