Best Areas of Law for Work-Life Balance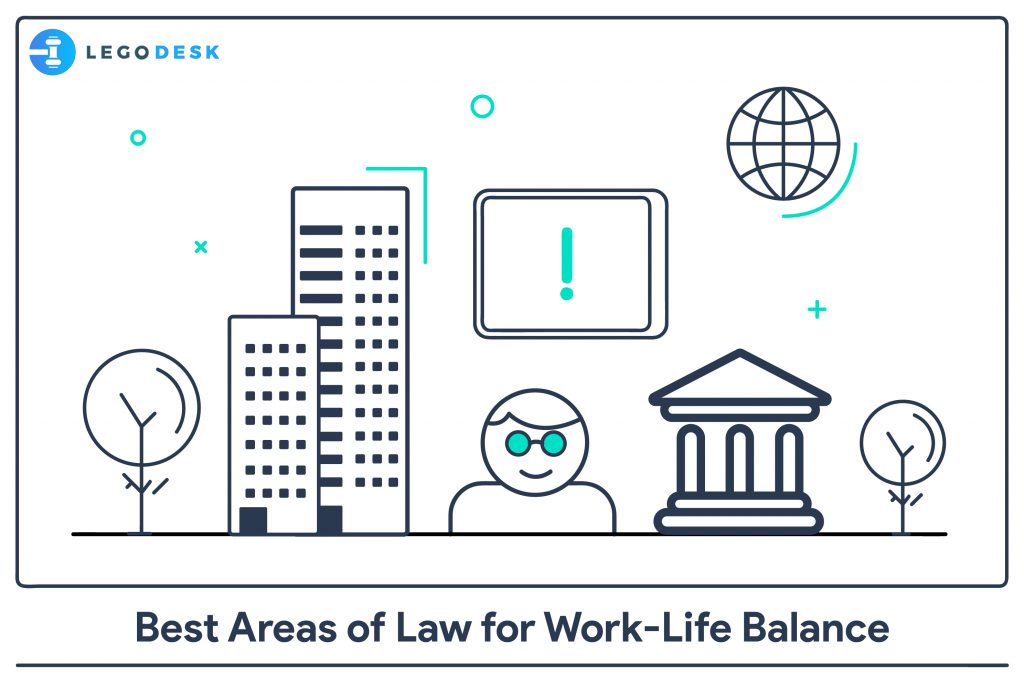 Not many people wish to spend most of their time at work. As we age, we are faced with responsibilities such as family and other obligations. There are even social obligations that require more attention. It is definitely important to secure good employment, but it is equally important to balance the same with other areas that require attention. Law as a career would demand many work hours and slog from a fresh graduate. Most young or junior lawyers are faced with the same requirement.
From our generation onward, we can expect the average age of an undergraduate in law to be around 23-24. Other than the minimal social matters to attend to, there won't be a lot more than life demands at this point in time. However, lawyers after marriage or those who start a family would face trials with respect to balancing life and work.
To be on the realistic side, compared to those in the medical profession, work as a lawyer would not be as demanding. Work, in the field of law, includes working extra hours at the office and carrying work back home as well. However, it does not include night shifts but rather along the lines of having to meet deadlines and dates.
The graph made above is as per data collected from lawyers working in each field, starting from the highest time demanding work, down to the least. We can see the lawyers in the Private Equity and Litigation fields spend more time at work.
1. Government employed lawyers/Public Policy
Those who work in the public sector or as a lawyer or public policymaker under the Government can expect a 9-5 job. Lawyers in Public Sector Undertakings are treated to fixed exit timing. The work requirement, though strenuous, would not be as time-consuming as other fields of work in law. Weekends would not be working days in most circumstances. As the Government/public sector is keen on motivating job security, the stress to be faced by lawyers in the field would be less.
2. Solicitors
Solicitors are those who provide legal advice and opinions or assistance on matters of law. They are the first point of contact for any individual, organization, or company regarding a legal concern. Those who are solely in the profession as a solicitor would not find themselves trialed with litigation duties. A legal adviser's job requirement would be limited to providing timely service of suggestions and options as to how to handle legal problems.
Read Also – The ABC of Solicitor Negligence in India
3. Intellectual Property Rights
It should be established that IPR, as a legal profession, was chosen for this category in contrast with other fields. It is a field with a set course, procedure, and exhaustive legislation. What can receive patent or copyright, etc. is based on legislation. Lawyers in the field will work on the application for registration as an IPR. They would also have to defend cases of infringement. Though it is a field that matures with years of experience and requires a good amount of knowledge, it would not usually be time demanding.
4. Real Estate Lawyers
Especially towards the transaction side. The main three parties to a real estate legal relationship would be the buyer/seller, agent, and lawyer. The work demands knowledge of the law relating to property, as well as real estate law. Closing contracts and filling forms with customers' data amounts to a good proportion of the work. It offers a fair balance between work and life as it is not very time-consuming per day.
5. Research Scholar/Professor
Another 9 to 5 job. It requires certain educational qualifications and a good place of work would require years of experience as well. However, it is not too difficult for new entrants to this field to find good pay as well as free time. Professors in Universities or law schools would find it possible within their daily routine to spend a fair amount of time on their life outside of work.
6. International Law
Lawyers who mainly work in the field of international law. This would involve work as an attorney who focuses on international trade or business disputes, conflict of law matters, and other private international law. Work in this profession generally does not involve stringent deadlines nor consequences. Rather than knowledge as to the law, interpretations, and case law knowledge matters.
Read Also – Benefits of Becoming a Lawyer
It should be made to note that the fields mentioned earlier are in no way just "easy." Rather, through a comparative analysis, the stress and lack of time available to lawyers in these fields would be in their favor.