The 5 Best Podcasts for Lawyers in 2020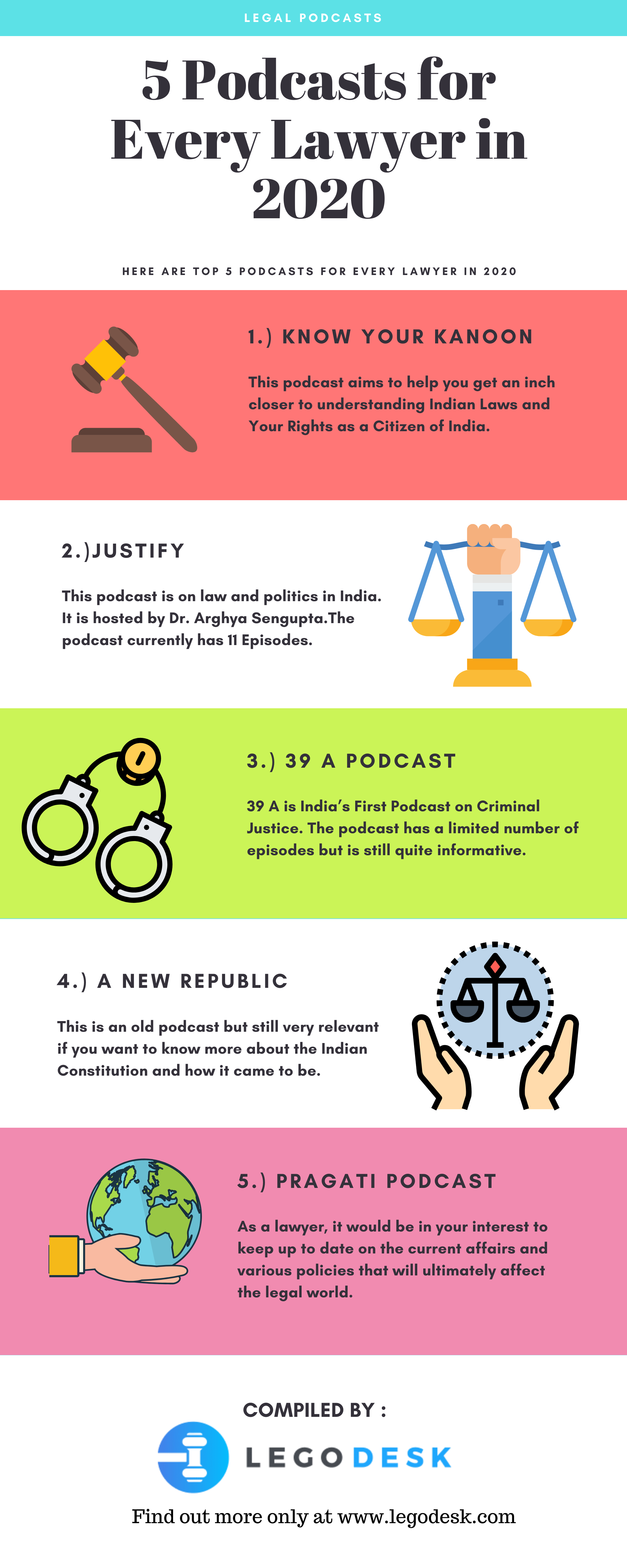 Gone are the days when lawyers were considered as bookworms. With technological advancement, the way of acquiring knowledge has changed. That's why podcasts for lawyers are more popular than ever.
The Coronavirus Pandemic is causing more people to work from home than ever. And so, people all over the world are self-isolating and practicing social distancing. You're probably getting more done now that your co-workers are not popping over for a chat every 10 minutes. But the silence of your apartment is also starting to get on your nerves. This unprecedented public health crisis is forcing people to stay indoors. In the wake of this, various entertainment options are gaining popularity. An increase in the demand for audio content in India has led to a surge in the popularity of podcasts.
Read Also – How Lawyers Can handle the irate clients
For those who don't know, a podcast is an audio program, just like Talk Radio. However here, you subscribe to it on your smartphone and listen to it whenever you like. It is usually an episodic series of the spoken word digital audio files. The digital audio files often focus on a particular topic or theme. People often multitask while they listen to podcasts. In fact, you can listen to a podcast episode while you cook or while you commute.
Read Also – Qualities of a Good Lawyer
Some Popular Free Audio Streaming Platforms:
Gaana
Spotify
Sound Cloud
Apple
Amazon Music
JioSaavn
Hungama
Platforms that offer Local Content available in Various Local Languages:
BookMyShow Jukebox
com
Headfone
Hubhopper
Suno India
What are the Legal Podcasts?
Legal Podcasts are informative audio episodes. They are streamed to educate, inform, and entertain the lawyers who are looking to stay up-to-date on legal issues. Podcasts for lawyers can help stuck-at-home lawyers stay up-to-date with current events. Also, it usually covers Legal News, Current Events, Legal debates, and Landmark Rulings. Therefore, a lawyer who wants to keep up with the ever-changing world of law can tune into one of the below podcasts and get their fix.
Read Also – Legodesk Affiliate Program Terms of Service
Here are Top 5 Podcasts for Every Lawyer in 2020:
1) Know your Kanoon
About the Podcast: This podcast aims to help you get an inch closer to understanding Indian Laws and Your Rights as a Citizen of India. Further, it also tries to bring clarity and awareness with regard to the legal justice system of India. Additionally, the show is hosted by Amber Rana, a civil, criminal, and tax lawyer. She takes questions from her listeners and gives them insights into the various implications of the laws, rights, and sections applicable in India.
2) Justify
Hosted By: Arghya Sengupta
About the Podcast: This podcast is on law and politics in India. It is hosted by Dr. Arghya Sengupta. Currently. the podcast has 11 Episodes. It includes discussions on the various topics that include,
Supreme Court judgments like Ayodhya, Sabarimala, RTI, etc
Deep constitutional issues of Kashmir
The Basic Structure Doctrine
The Opportunities and Challenges for Sharad Arvind Bobde: Chief Justice of India
A special episode with a Supreme Court judge
3) 39 A Podcast
About the Podcast: 39 A is India's First Podcast on Criminal Justice. The podcast has a limited number of episodes but is still quite informative. The mandate of this podcast is to make issues on criminal justice accessible. The podcast includes discussions on the various topics that include,
Mental Health and Criminal Justice
Death Penalty
Bollywood's Law and Justice
Beggary, Torture, Insanity, and Burari
These episodes are available on SoundCloud, iTunes, and YouTube.
4) A New Republic
About the Podcast: This is an old podcast but still very relevant if you want to know more about the Indian Constitution. It tells you all about the Constitution and how it came to be. It has all the events leading up to the day to which the Indian Constitution was coined. Thus, if you are a history lover then this one's for you.
5) Pragati Podcast
About the Podcast: While this podcast is not strictly legal. However, it does take a step back from the noisy political debates. It touches upon topics like public policy, economics, and international relations. Therefore, as a lawyer, it would be in your interest to keep up to date on the current affairs and various policies that will ultimately affect the legal world. Here, the host Pavan Srinath talks to scholars and experts on various issues with new episodes airing every Thursday.
Link: https://ivmpodcasts.com/the-pragati-podcast
Conclusion
Therefore, it can be said that Indians have been hungry for audio content for ages now. From tuning in to public radio stations to shifting to podcasts, we have come a long way. Great audio set-ups and quality content now being made available to us. Additionally, people are gravitating more towards free online platforms like Gaana, Spotify, JioSaavn, Sound Cloud, etc. Well, whether you were looking for a new source to get legal news or just want to hear some unique perspectives of experts from the legal field, we hope you have found some new podcasts to listen to during this pandemic. Happy listening.
Read Also – 10 Ways Expert Personal Injury Lawyers Can Help Your Case
Also, do tell us some of your favorite legal podcasts in the comments section below.