How lenders can use OCEN to thicken their Loan Books 
What is OCEN?
India Stack aims to enable digital transformation by allowing governments, businesses, startups, and developers to utilize the digital infrastructure. Whereas OCEN seeks to facilitate the various aspects of the lending value chain. 
OCEN facilitates a presence-less, paperless, and cashless service delivery to all financial institutions in the digital lending era.
Before we understand how OCEN can enable lenders to increase their customer base, let us delve deeper. And discover how does open credit enablement network work.
OCEN Stakeholders:
There are four different stakeholders in the OCEN ecosystem, namely:
Loan Service Provider (LSP) – Any digital platform (a business with a mobile app or a web interface) that can deal with borrowers. 
Technology Service Provider (TSP) – FinTech companies that provide crucial technology for lenders and borrowers to transact with each other and access various credit programs. 
Lender – This one is a little easier to define. Banks/NBFCs/small finance banks that provide capital and have access to core banking networks by complying with RBI standards  
Borrowers – Businesses or individual consumers who wish to leverage the credit options offered by the lenders through a TSP platform are called borrowers. 
By democratizing credit for the masses, OCEN enables borrowers, lenders, and TSPs.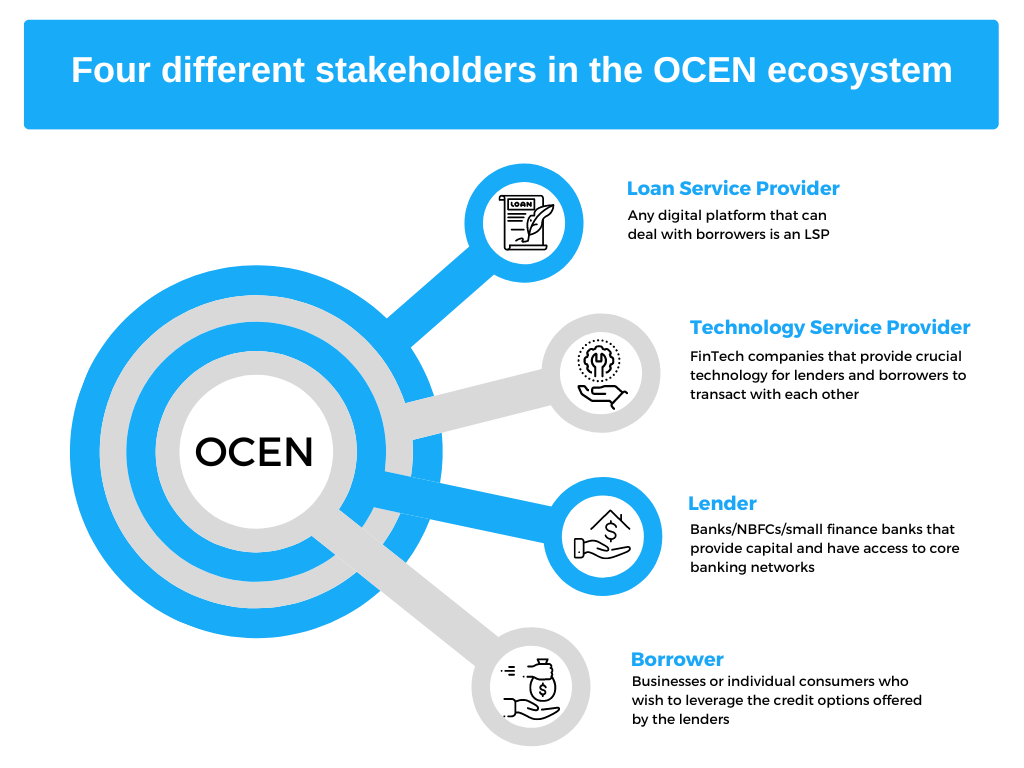 Advantages of OCEN for lenders:
Despite the availability of numerous banks, India's MSMEs and marginalized populations do not have access to proper credit; creating a deficit of almost  $330 billion. 
Traditional services have struggled to deliver credit to the hands of those who most need it.  This is primarily because this market demands smaller loans. But, often, they are accompanied by higher risks in terms of lack of collateral or difficulty with the collections process.  Loan Disbursals is costlier in India. As per a report, to process a loan below ₹2 lacs, lenders have to spend around ₹5000. This makes borrowing costly in India and disbursing small loans less viable.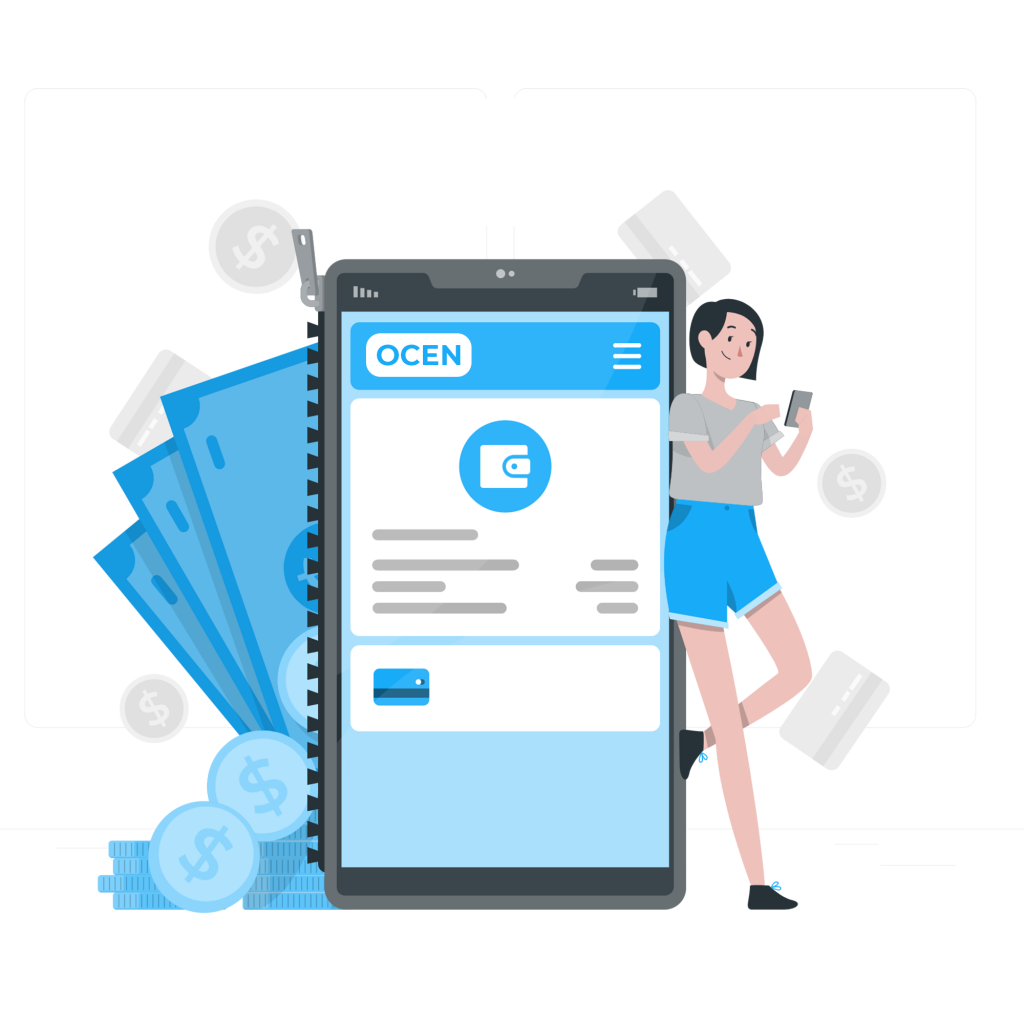 OCEN offers ​the APIs that enable financial marketplaces to use its tech stack. This tech stack can create and deliver innovative and customized financial credit products to the masses. These customized loan products address small businesses' financial needs, whose collection and recovery process can further be personalized. 
You can get access to OCEN's APIs Here. 
As a lender, you can underwrite norms based on market research. Lenders can also monitor credit to identify and target your ideal customers smartly. Moreover, for banks and financial institutions, a proposed non-profit Public Credit Registry will help obtain a 360-degree profile of existing and prospective borrowers on a real-time basis. 
OCEN allows lenders like you to set up auto-payment terms that leverage the prevalent UPI mandates. This process ensures credit disbursement and settlement functions with the least manual intervention. The most significant turnaround point is the ability of lenders to offer credit based on continuous cash flow and paying capability. This cuts out the traditional dependency on income, salary, or any physical assets. 
By setting up a digital acquisition channel with the end-to-end loan application, management, and disbursement journey, OCEN can help lenders tap the untapped market potential.
Limitations o OCEN:
With the potential to reach an untapped market, the availability of lower loan amounts might make collections and recovery a difficult process.
Without the proper information on the previous credit history, riskier loans might rise.
Sadly, the end-to-end infrastructure is not yet completely digital; which means that the lenders will use on-feet teams, which will, in turn, increase the operational costs of the loan.
Additionally, with multiple intermediaries and stakeholders involved, the widespread use of OCEN might take some time. But, with India's aim to become a 5 trillion economy by 2025, it is wise for lenders to set up a progressive, inclusive, and visionary roadmap achievable only through OCEN.