Did you undergo house robbery? You're understandably going through a range of emotions including fear and shock. You're wondering what to do next and it's possible you aren't able to think clearly. But, in the aftermath of discovering that you've been robbed, it is crucial to take some key steps which will play an important role in getting through this situation as smoothly as possible. They are as follows.
What to do Immediately After Your House Was Robbed?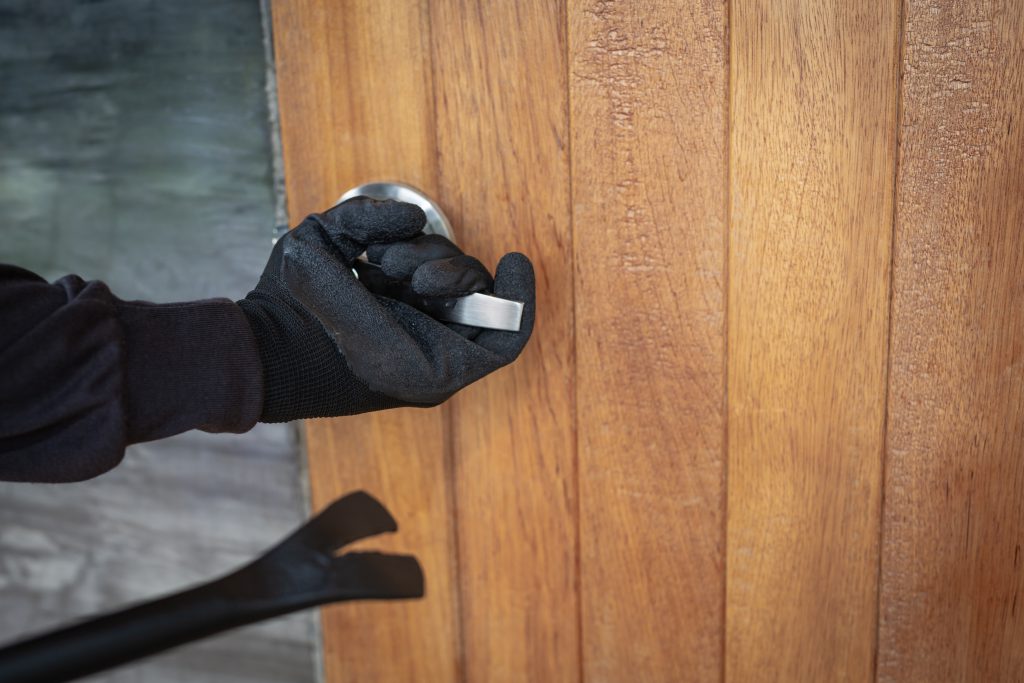 Leave the Premises and Call the Police Immediately from a Safe Spot
Calling the Police is the first thing you should do after a robbery to lodge an FIR. However, make sure to not stick around to see what's left and what's remaining in the house. It is possible the robber is still around and can be potentially dangerous.
Once you've called the police, the incident will be officially on record, which is necessary for both insurance claims and for retrieving your belongings if the thief is caught.
Do not under any circumstances try to clean or fix anything before the police arrive. This will ensure that the scene is not contaminated and the police can take evidence like fingerprints, shoe prints, etc. from the scene of the crime.
Once the police arrive, they will make a complete list of all items that have been stolen and the approximate value of each. If you managed to see the intruder, then you need to give them a detailed description of what they looked like and which direction the intruder went after leaving your home. Further, if you have a security camera outside your home or in your neighbourhood, share it with the police.
What to do in the first 24 hrs of the House Robbery?
Call Your Insurance Company Agent (Only applicable if you have done Home Insurance)
Whether you own your house or it's a rented apartment, you are eligible for a claim. A call in the first 24 hours of the incident will ensure the recoupment of a decent amount of what was stolen. Make sure to submit all necessary information to the insurance company so they can properly process your claim. It's possible that the insurance company will send someone to investigate the claim in person. Ensure that you accommodate the investigator and help them gather all the information needed to process the claim.
Gather Proof for the Insurance Company
Photos of the Burgled Rooms of Your House– Take pictures of the burgled rooms of your house including any damage done to doors or windows. This can be useful, as every bit of visual evidence helps.
Video Footage from the Security Camera– If you already have a security system in place outside your home or in your neighbourhood that has captured the incident, share it with the insurance company as further documented proof.
Call Your Bank
If any of your chequebooks or debit/credit cards are missing, call your bank to avoid further theft or fraud. You will have to make this call even if any device has been stolen which has your financial information on it. Your bank will be able to place an immediate block on all your cards and issue you a replacement.
Notify Other Authorities
If your mobile is missing, call your network provider right away to block the phone.
In case of a missing passport, talk to the police, and inform the passport office to cancel your passport. Apply for a new one once the dust settles.
If your Fixed Deposits Original Certificate is missing, call your bank branch immediately. They will take your details into account and issue you a duplicate fixed deposit receipt and cancel the original one.
Inform the chairman or president of your society or neighborhood so they can share any relevant information with you and cam alert your neighbors.
What Comes After?
Cleaning your House, Replacing Stolen Items, and dealing with the Insurance Claim.
Once the police and insurance agents complete their initial assessment of the robbery, you can go ahead and clean the house. Make sure to repair any damages and replace broken locks or smashed windows straight away so you feel secure in your home. If you've provided sufficient information and all the relevant documents to the Insurance agent, the insurance company will wait to receive a statement from the police regarding robbery and the findings of their investigation. The waiting period varies from case to case and the availability of documents provided by the victim. In case, you are unhappy with the claim amount received or are in a deadlock situation from several months, you can reach out to a Financial Ombudsman Service to investigate.
Do Burglars Strike Back? The Truth and How to Prevent it.

Yes. Sometimes, the same households are frequent targets. The term for this house robbery scenario is "Repeat Burglary". One out of every three house burglary victims is a repeat victim. This so happens because you might be in a state of fear or shock and might not want to live in the house where the incident occurred and might stay at your friend's house temporarily, while you mentally recover from the trauma.
An abandoned house can invite another incident of house robbery. Especially, by the burglar who now knows the ins and outs of your home, who will now hit areas of the home he didn't target previously. That's why you must take security measures as soon as possible.
Take Measures to Better Safeguard Your Home in the Future
These are some of the security measures you can take in the future to avoid a robbery:
Get a Home Security System
Use Grade 1 or 2 Deadbolt locks that are harder to pick
Get a Dog
Install front gates
Use smart locks
Install motion lighting to K]keep your home well lit
Install bulky doors that are hard to break
Put bars on your windows
How to Cope Emotionally After a House Robbery?
After a robbery in your home, you may feel anxious, jumpy, and unsafe. Losing valuable items and property damage is hard enough, but when you start feeling unsafe in your own home it starts to take a toll on your mental health. It is important to take care of yourself and talk to someone about what you went through. Taking various security measures to safeguard your home from future attacks will further help to put your mind at ease.
Conclusion
A house robbery is a personal violation that can have lasting effects on someone. It can cause you to have distressing feelings of being unsafe. Never feel shame in asking for help. Make sure to follow the steps mentioned above to better safeguard your home in the future and also in an effort to reclaim your peace of mind.